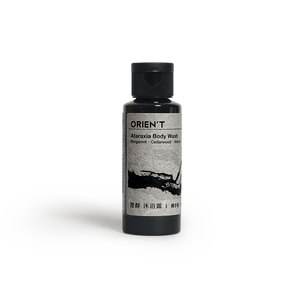 Ataraxia Body Wash 50ml
Formulate with natural foaming surfactants to remove excess oil without drying skin, leaving skin hydrated and healthy.
Harmonious blend of citrus woody essential oils promote calm, relaxation and return to a feeling of balance and tranquility.
Suited to
All skin types
Key Ingredients
  Natural Foaming Agents – A natural foaming agent creating a rich and stable foam, gently cleanse your skin without stripping it dry.
  PENTAVITIN® - Forms a protective barrier over the skin to provide long-lasting hydration
  Piroctone Olamine - Has anti-fungal properties to fight against acne-causing bacteria
Aroma
Bergamot.Cedarwood.Vetiver
  Top Notes – The harmonious citrus blend of orange and bergamot can uplift your mood and help relieve stress
  Heart & Base Notes – The warm wood and the earthy aroma of vetiver are perfectly blended to create a calming environment, which helps to promote feelings of relaxation and regain inner peace
Size: 50ml / 1.7 fl.oz